ESTA
Eastern States
Theater Association
ESTAFest 2020 tickets now available
ESTA Members

Delaware Theatre Association (DTA)

Maryland Community Theatre Festival Association (MCTFA)

New Jersey Theatre League (NJTL)

Theatre Association of New York State (TANYS)

Pennsylvania Association of Community Theatre (PACT)



ESTA is Region II of the American Association of Community Theatre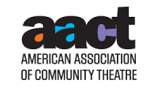 It's Festival Season!
Looking for a memorable and enjoyable theatrical experience? Check out these upcoming theater festivals, culminating with ESTAFest 2020.
1 / 6

2 / 6

3 / 6

4 / 6
5 / 6

6 / 6

For more information about state competitions, visit the individual state organization's website (the links are available to your left). For ESTAFest 2020, visit the ESTAFest page.
Ruth's Ruminations
November 2019

People tell me I'm too wordy with these so I'm keeping this one very short.
Check out the different sections of our website. It has been reworked in many ways. Please also like our FB page. This way we know who you are and can get you the latest ESTA regional and festival information as it finalizes.
Really want you to check out the ability to donate online! There are benefits associated with each level and you can donate from the comfort of your computer chair, bed, couch or wherever else you read your electronic news! Just click on the Donate button (see above) to get more information.
Take a look at the new information on the ESTAFest page (Tickets are not yet on sale, so don't use the tickets link--we will announce when tickets are available for purchase). Our host this year is the Tatnall School, and there is great information about their wonderful theater venue.
Hope to see a lot of you at upcoming TANYS Festival, November 22-24 at Rome Community College.
Best wishes for a safe and enjoyable Thanksgiving!
Ruth K. Brown
ESTA President