ESTA
Eastern States
Theater Association
ESTAFest 2017 was held at the
Wilmington Drama League, Wilmington, DE,
A Note from ESTA's V.P. of Festivals;
On Behalf of the ESTA Board of Directors and myself  I would like to thank all the participants of ESTAFest 2017, if it was not for you there would be no ESTAFest.
I would like also to thank The Wilmington Drama League for hosting this year's festival and welcoming us all into their theater.   
To all the Winners and non-winners …  CONGRATS,  all the shows were fantastic and everyone should consider themselves a winner, you deserves it.  
And finally to "The Glorious Ones" Break-a-Leg, bring down the house in Rochester, MN and bring home a WIN for Region II,  and show the Nation what we have to offer. 
Congrats
L.J. "Buzz" DiSabatino
VP of Festivals, ESTA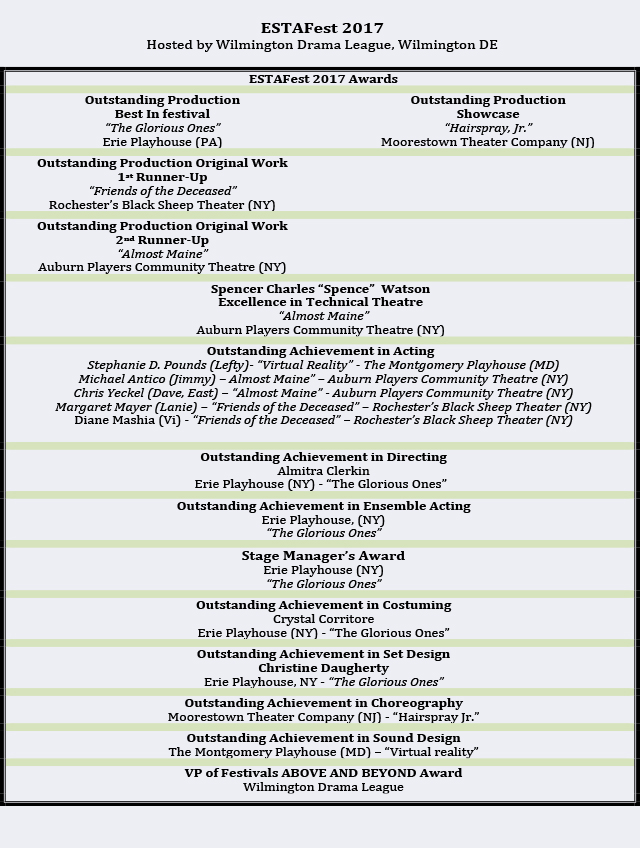 .