ESTA
Eastern States
Theater Association
ESTAFest 2020 tickets now available!
ESTA Members

Delaware Theatre Association (DTA)

Maryland Community Theatre Festival Association (MCTFA)

New Jersey Theatre League (NJTL)

Theatre Association of New York State (TANYS)

Pennsylvania Association of Community Theatre (PACT)



ESTA is Region II of the American Association of Community Theatre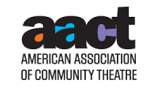 See You at ESTAFEST 2021!
ESTA thanks everyone for your support during these unsettled times, and we look forward to celebrating the best in regional theater with you at ESTAFEST 2021.
1 / 4

2 / 4

3 / 4

4 / 4

RUTH'S RUMINATIONS APRIL 2020
ESTA WILL BE BACK IN 2021!!!!
YOU CAN COUNT ON IT!!
I was thinking this weekend about ESTAFest 2020:
and the people WE would have reconnected with,
the laughs WE would have shared,
the plays WE would have seen,
the adjudications WE would have heard,
the food WE would have enjoyed, and
the congratulations WE would have given to winners!
While COVID-19 did not allow ANY of those things to happen except as dreams in our theatrically fevered brains, I, as President of ESTA, wanted once again to say a large "THANK YOU" to all of you who donated your ticket money to ESTA. Also, there is still time for any participating theater group(s) that have not yet made a donation to do so before the Festival Report is finalized at the end of April.
Stay healthy and safe until we meet again around the theater!
Ruth K. Brown
ESTA President
If you have any comments, suggestions, concerns or observations that you would like to share with me, please contact me directly at president@estafestival.org.