ESTA
Eastern States
Theater Association
ESTAFest 2020 tickets now available
ESTA Members

Delaware Theatre Association (DTA)

Maryland Community Theatre Festival Association (MCTFA)

New Jersey Theatre League (NJTL)

Theatre Association of New York State (TANYS)

Pennsylvania Association of Community Theatre (PACT)



ESTA is Region II of the American Association of Community Theatre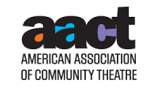 The Eastern State Theater Association (ESTA) is a 501(c)(3) non-profit organization. Your contributions to ESTA are tax deductible.
ESTA is a regional support organization for locally-based, usually small community theaters in Delaware, Maryland, New Jersey, New York, and Pennsylvania. One of ESTA's primary goals is to encourage and support original works. To that end, ESTA holds a biennial Sherman C. Ward, Jr. Celebration of Original Works, named to honor a key proponent of this effort from our region.
To aid ESTA's efforts to meet the needs of our members--including more effective networking, workshops, adjudication, and expansion of available resources--ESTA needs your support.
Please consider making a tax deductible donation to ESTA. There are a range of different levels of support to choose from. Check out the benefits that come with each donation level.
Clicking on the Donation button will take you to our secure payment processing site. Once there, you can choose your level of support and securely complete the transaction.
NOTE: Be sure to indicate in the "Special Instructions" section on the payment site whether you wish to accept or pass on the associated benefits. By electing to pass on benefits, you maximize the tax-deductible amount of your donation, as well as providing additional support to ESTA.
Special Benefit for Theaters
Any theater that joins its state organization AND makes a donation of ANY amount to ESTA will receive a full year of ESTA Facebook page access for their shows and events.
Thank you for your support!